PEABODY, Mass. -- The world may seem upside down, but candlepins work in either direction.
That at least seems to be the attitude at Leo's Metro Bowl & Spare Time Tavern in Peabody, Mass., where -- despite a loss of revenue from building capacity restrictions -- the alley has managed to stay busy since it reopened in August from a statewide COVID-19 business closure of non-essential businesses during Phase 3 of Massachusetts' reopening plan.
Many other alleys across New England have struggled to get up and running again, but they, along with leagues and fans, are now doing as much as they can to keep the quirky, region-specific sport alive. While the circumstances at the moment are challenging for any public-facing business, the owners and dedicated staff at Leo's have worked dilligently to preserve candlepin bowling's future on Massachusetts' North Shore.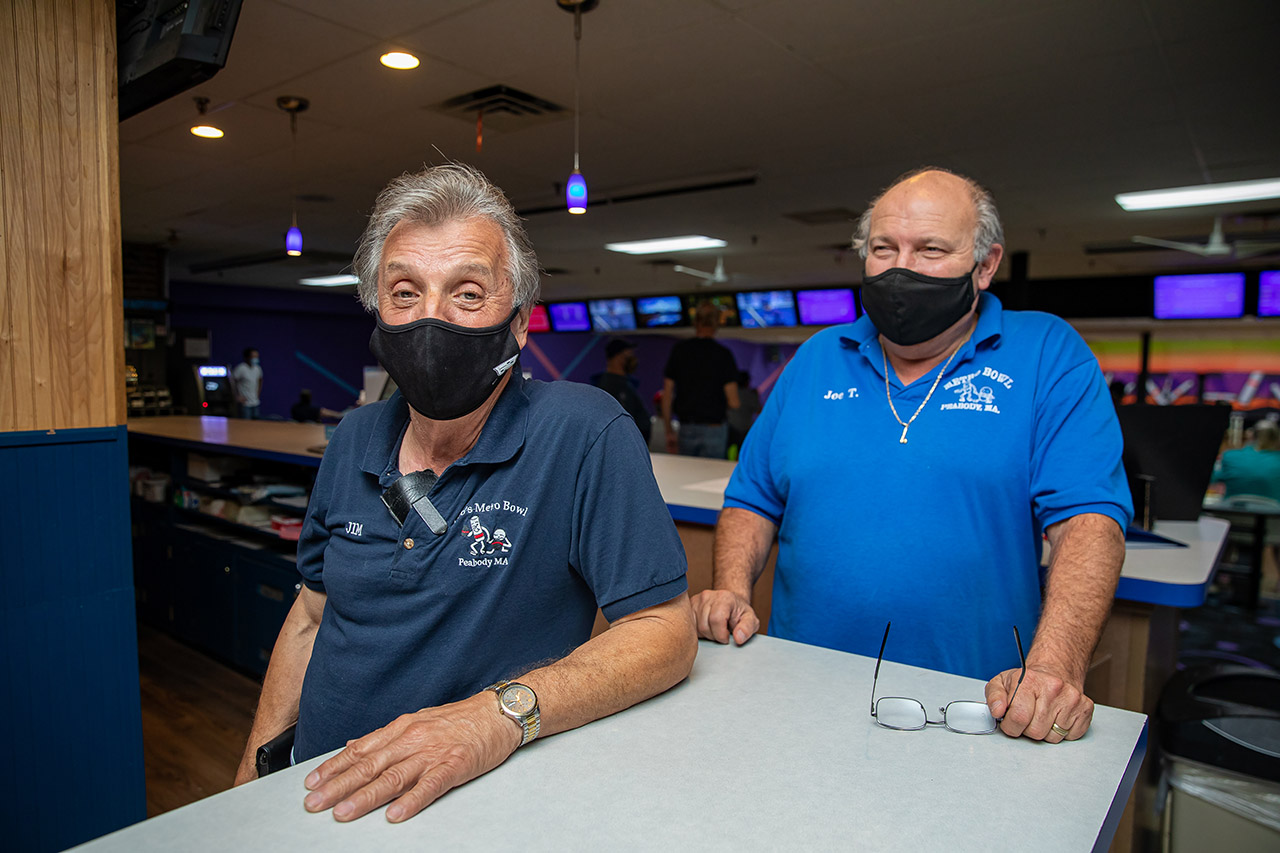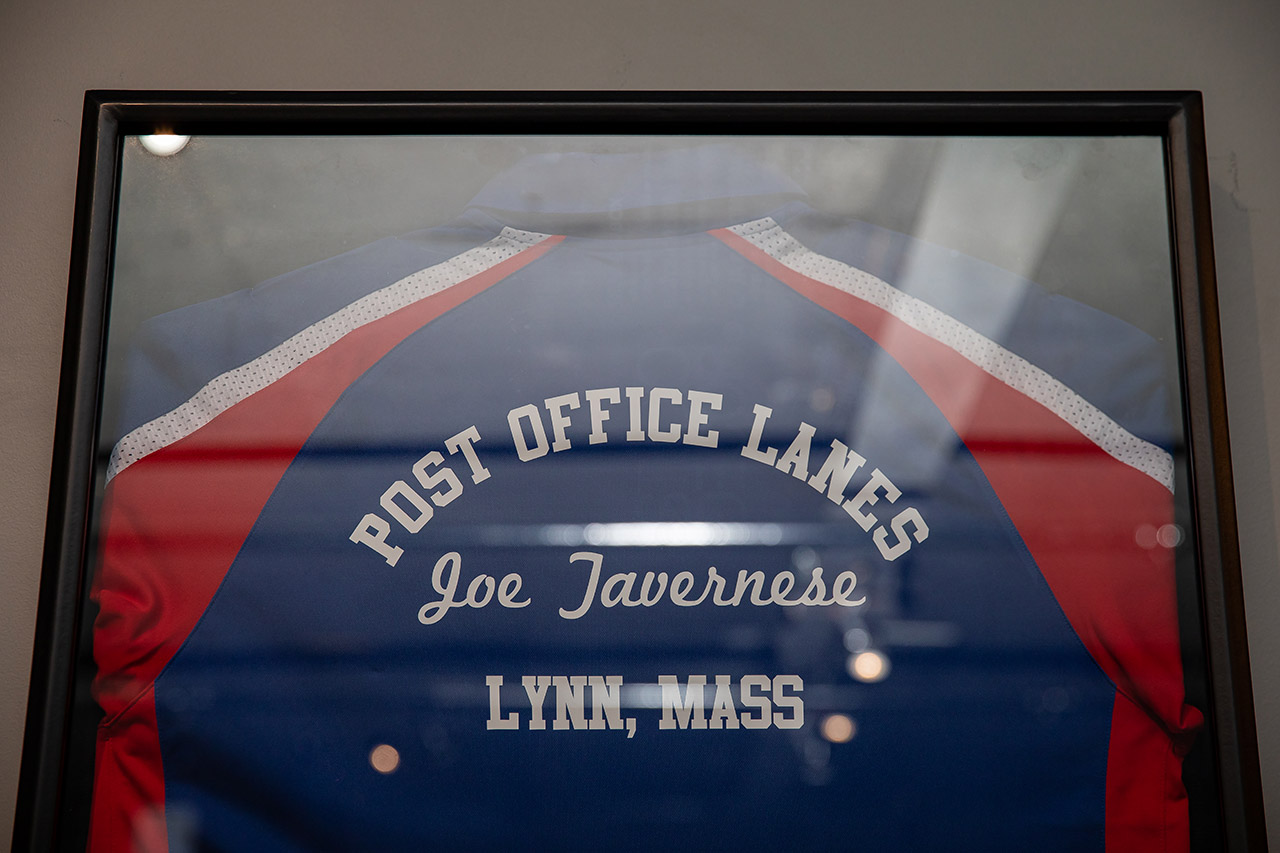 Many of the staff members at Leo's have a long history with candlepin bowling. Back in the day, when the sport attracted interest from spectators, employees Joe Tavernese and Jim Barber were sometimes featured players on TV shows like "Candlepin Bowling," "Candlepins for Cash" and "Candlepin Doubles."
Joe started playing on the shows when he was 20. Now 65, he hasn't been able to play for several years after knee replacement surgeries, but he has been working in alleys for the Leo family for half a century and still enjoys being close to the game.
He grew up playing in kids leagues and started working part-time at the Leos' first alley, Post Office Lanes in Lynn, when he was in high school. After graduating, he went full-time at the alley and made some extra money through bowling.
It's definitely difficult for everybody. We've just gotta hang in there.
— Joe Tavernese
"I just love candlepin," he says, estimating he was on TV about 50 times over the years. "I had a good career, ... but my body started telling me, 'You can't do this anymore.'"
While it was strange to be out of the alley for so long after the pandemic hit, Joe considers himself pretty lucky. He stayed home and collected unemployment insurance while his wife, Sharon, continued to work. And, fortunately, neither of them became sick.
"I was home doing the laundry, cleaning the house and then having supper ready when she came home, so she loved that," he says. "I kept myself busy a little bit, but I also laid on the couch watching TV — I was comfortable doing that too."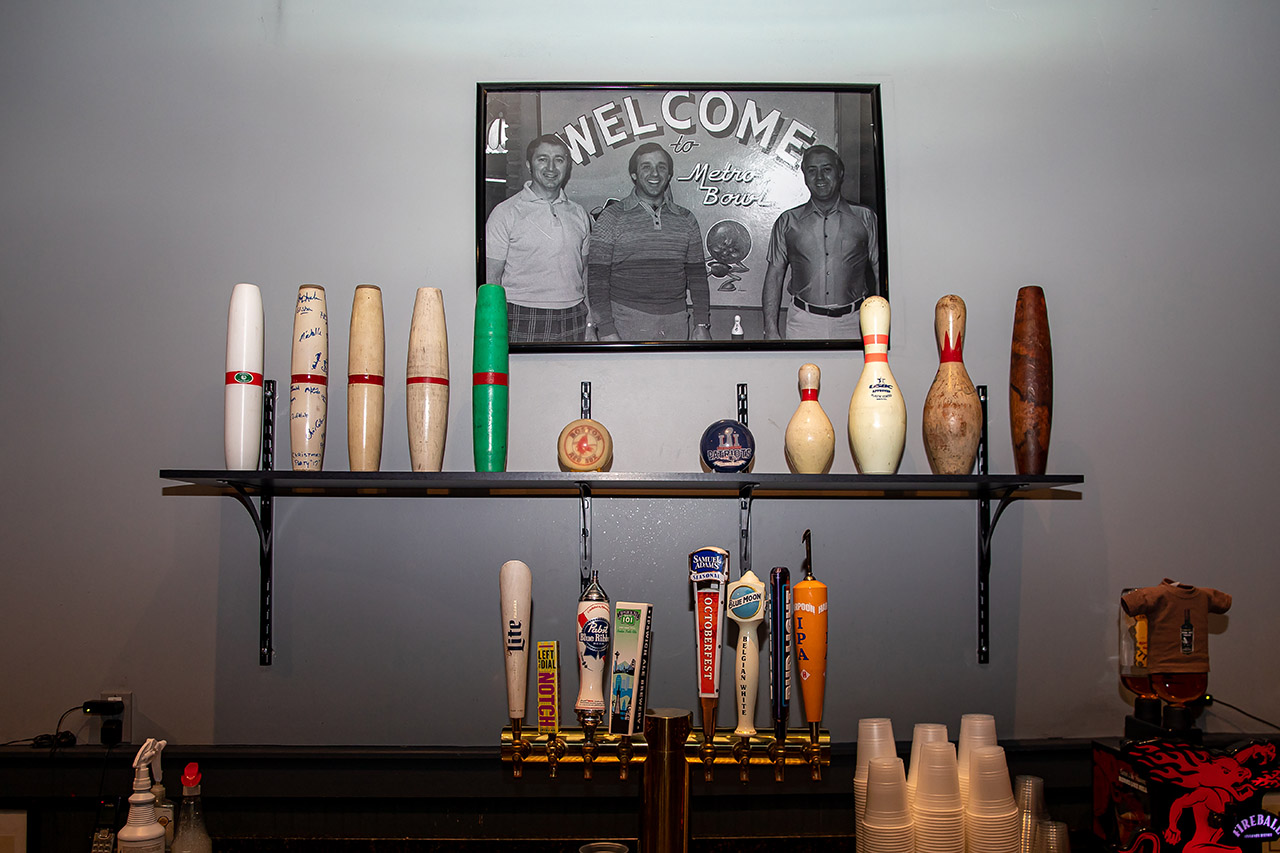 Bob Leo Sr. opened Leo's Metro Bowl in 1977 with his two brothers after shutting down Post Office Lanes, which he had owned since 1947. The display behind the bar of Leo's Spare Time Tavern pays homage to other forms of bowling with a timeline of various pins.
His son, Bob Leo Jr., who runs the tavern, says part of the business's success throughout the years has been a willingness to adapt to the times and to expand when necessary. When other alleys on the North Shore began to close, it also attracted local leagues.
Most recently, the alley built the bar and kitchen as an additional revenue source in 2017 and installed party rooms, an arcade and billiards tables. The tavern has had a large role in helping Leo's stay afloat through the COVID-19 pandemic.
"Most of our business is based on league bowling," Joe says. "Everything just feeds off each other. People come in and bowl, they go in there and eat, they come out and bowl. You know, back and forth. So it works out pretty good."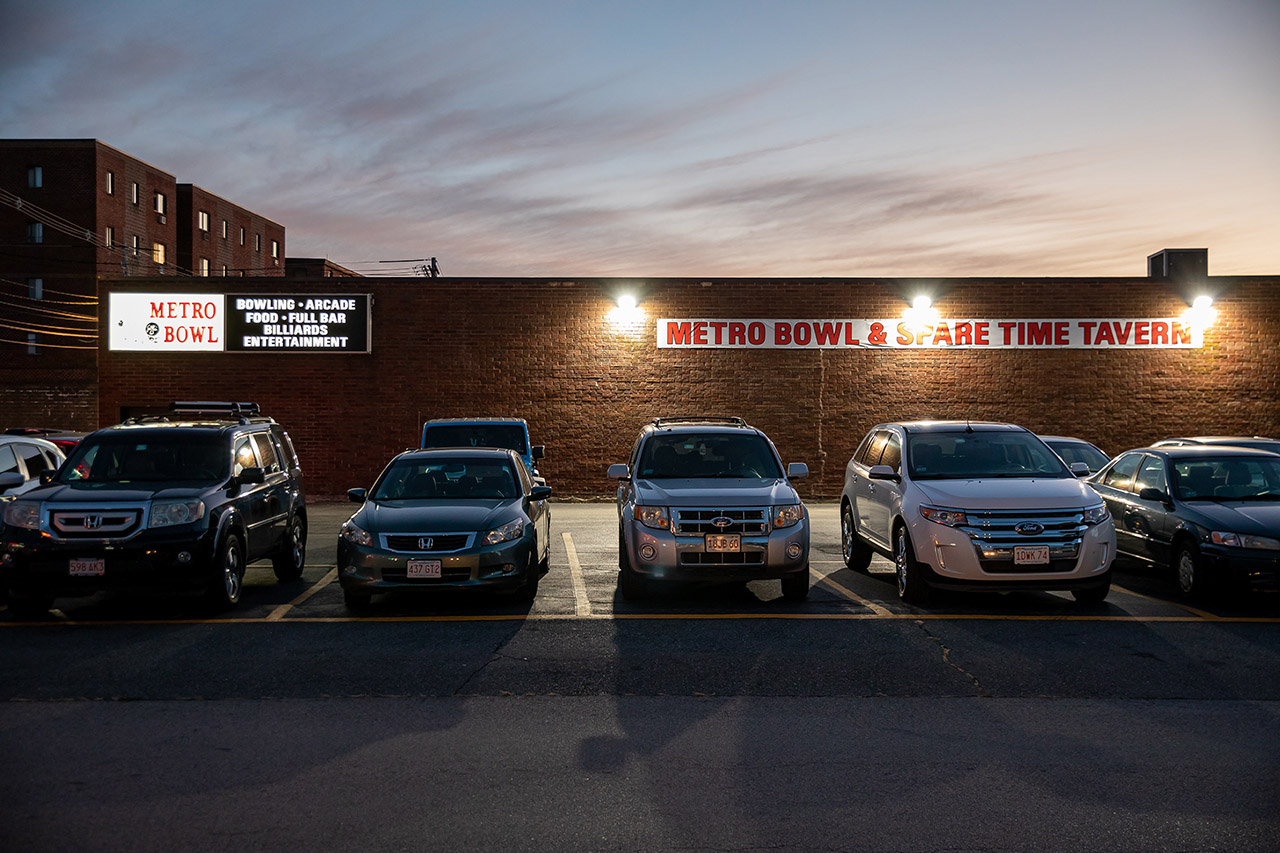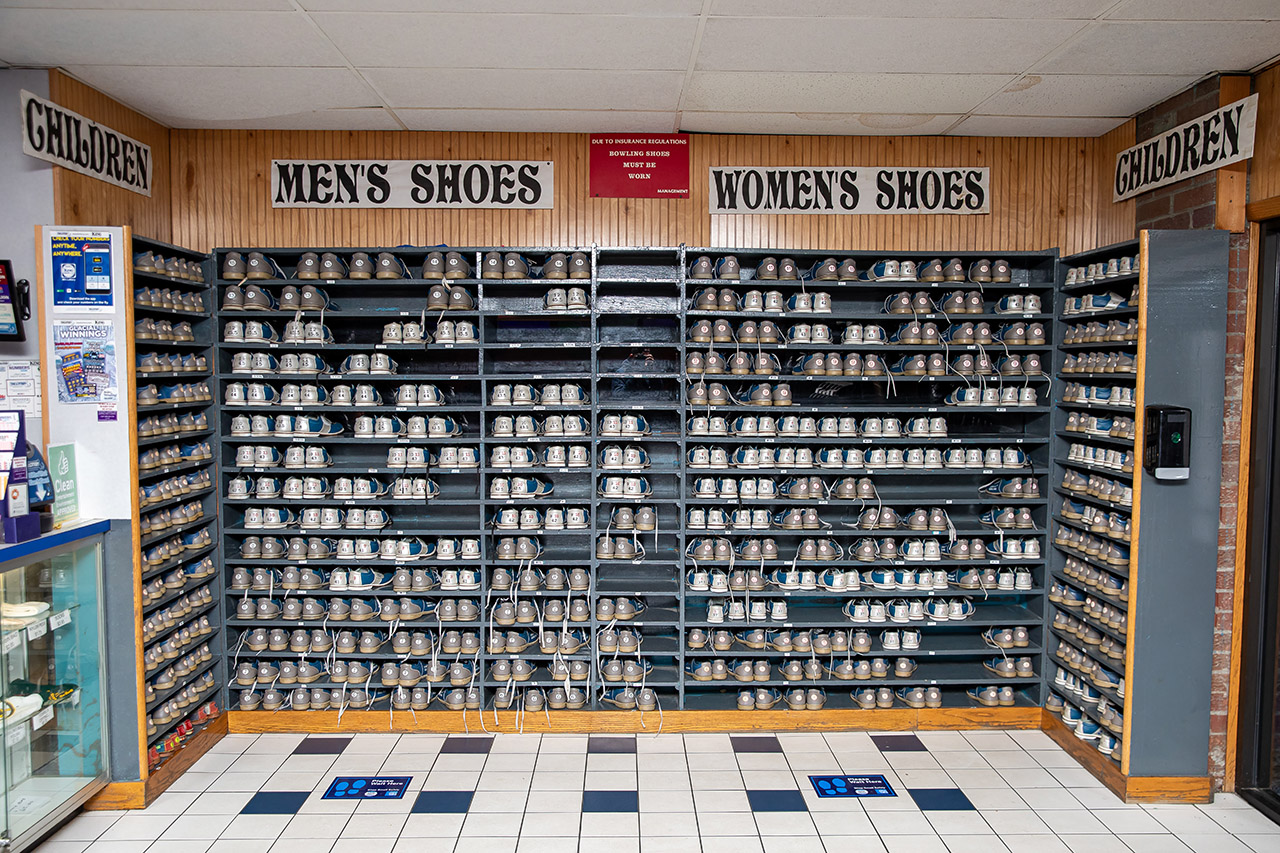 Leo's has been astutely following local, state and federal guidance on safely reopening, and staff members have been sanitizing balls and lanes every time a group of bowlers leave. Customers must wear face masks at all times and practice social distancing to the best of their ability, especially from other groups.
The alley features 38 lanes, but half of them are shut down because of the pandemic. The restrictions didn't stop people from enjoying one of their favorite New England family pastimes when the alley reopened, and leagues started to play again in October. What's more, many of the staff members know their customers well because they have been coming to bowl for years, even decades.
Although Jim, who used to own Lucky Strike Lanes in Lynn, shares the frustrations of many workers about the restriction of economic activity during the COVID-19 pandemic, he feels that the virus would be much less of a threat to public health and small businesses like Leo's could recover quicker if more people across the United States followed social distancing guidelines and wore masks as scientists and experts advise.
It was thriving business last year, and now it's down to this.
— Jim Barber
While he feels nervous about going to work to some extent, Jim feels like Leo's is doing a good job to minimize transmission of the virus while keeping the business open. The restrictions are tough on business, but having fewer people in the building makes it easier to prevent the spread.
He doesn't like wearing masks, especially when bowling with his league on Monday nights, but he believes it's the right thing to do.
"It was thriving business last year, and now it's down to this," he says. "I'm hoping by next September we should be clear to open up and get this (mask) off."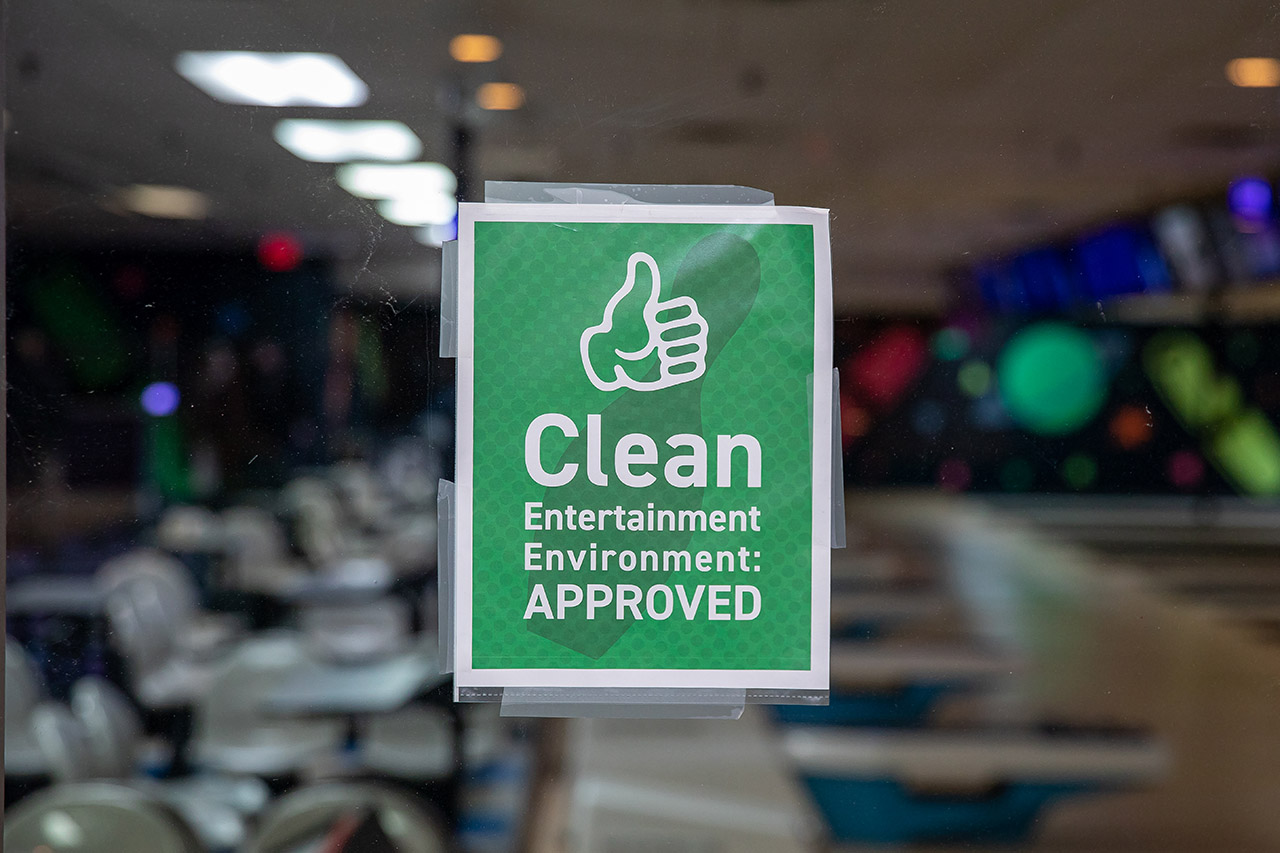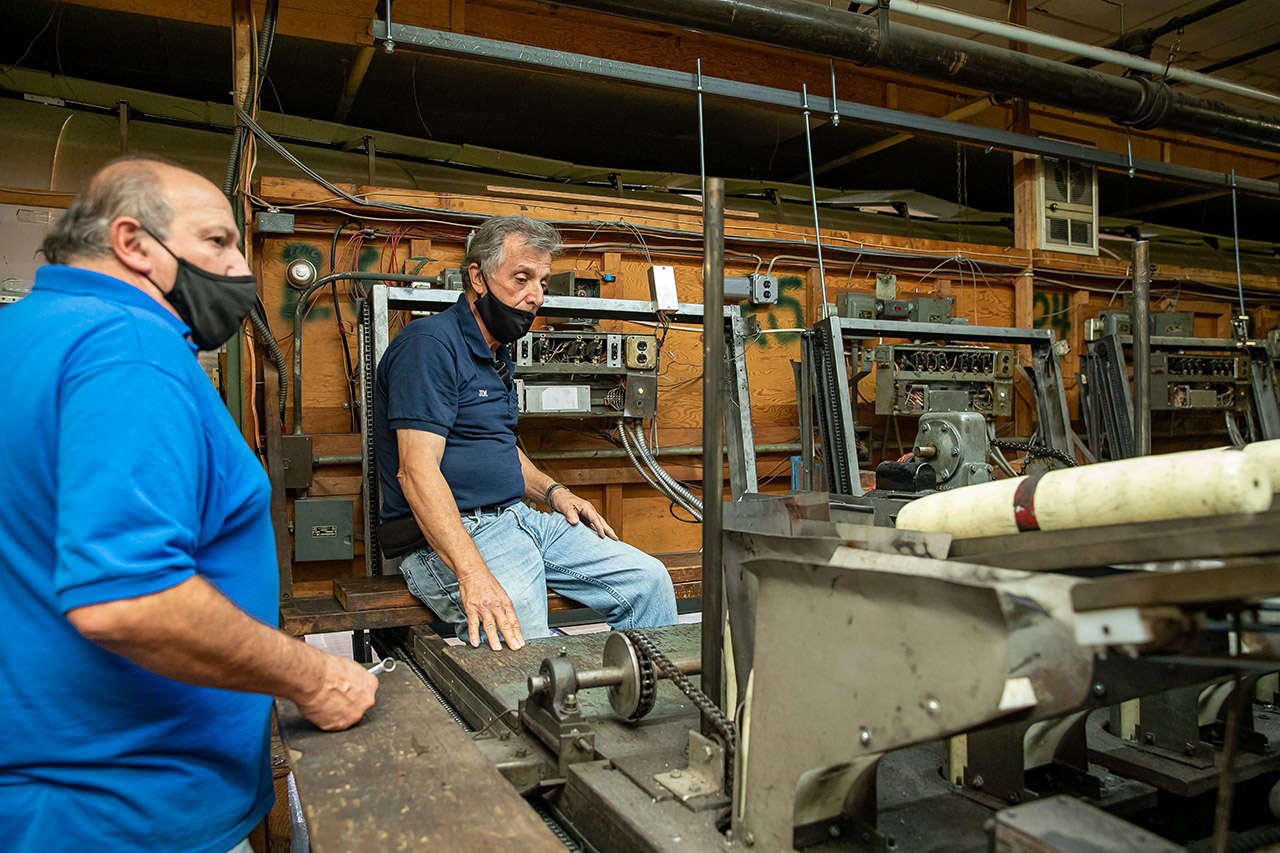 Candlepin bowling is often considered much more difficult than other forms of bowling, like tenpin. Balls are smaller, lighter and have no holes for fingers so they can be more difficult to control. Pins are spaced out farther from each other, and their cylindrical form can be tougher to knock down than curved pins.
The Elks League, a mix of men and women of all ages, has been meeting at Leo's and other nearby alleys alongside many other leagues for about 40 years. While it was more competitive in candlepin's heyday during the 70s and 80s, new and old members still meet every Thursday out of pure love and appreciation for the game.
We were worried that they were going to shut it down. This place used to be rocking.
— Dina Tedesco
Dina Tedesco has been bowling with the Elks League at Leo's for about 10 years, and she's witnessed an ebb and flow in candlepin bowling's popularity over time.
Whatever happens with COVID-19, she believes the sport will be able to rebound. The league, however, was worried at one point that Leo's might shut down permanently.
"This place used to be rocking," she says. "If they get the vaccine and whatnot going, I think a lot of people will come back."