Growing together while staying apart
Gardens brought neighborhoods together while local farms kept them fed. Growing food helped Massachusetts residents cope with the pandemic.
Britton Boughner already spent a lot of time with the plants in his garden before the pandemic, but this year they became a refuge. "They were a reminder to me that while the rest of the world was falling apart, the everyday cycle of life continues," he said. Boughner, 63, saw his home of 20 years through a new lense when he began walking daily and met many of his neighbors for the first time along the way.
In early October, Boughner passed apple trees weighed down with fruit and hated to see them go to waste. After approaching the homeowner, he picked 10 bags of apples and donated them to the Merrimack Valley Food Bank, which was elated to receive fresh produce. "Hopefully, maybe more people will be inspired to do their own thing and make a stronger community," he said.
In the early weeks of the pandemic, days blended together behind closed doors, but outside, spring slowly arrived in Massachusetts as it always does. Backyards, porches, and public parks became therapeutic escapes when there was nowhere else to go, lots of time to kill and much to worry about. Seeing even long-time neighbors became an exciting social interaction. When grocery shelves were empty, people planted vegetable gardens and subscribed to farm shares. Locally grown produce helped food pantries try to keep up with the overwhelming need.
Photo: Britton Boughner
Growing food, whether in farms or community gardens or backyards, brought people together, kept them sane and helped many avoid hunger. What began as resourcefulness and a way of coping with isolation stirred a humble revolution: the realization that what we need was around us - just outside - all along.
Sowing seeds
Danielle Barlow was anxious and seeking a distraction. The week before Massachusetts issued a stay-at-home-advisory, she picked up seeds from the public library. Her husband built raised beds behind their Lynn home and Barlow, 35, planted all the starter plants she could get her hands on. "I decided this year was the year I was turning my brown thumb green," she said. "I went balls to the wall."
Barlow fell in love with growing food - harvesting tomatoes, peppers, eggplants, radishes, potatoes and herbs, which she learned to do with help from the internet. When it was time to use all this produce, Barlow started cooking healthier and more frequently. Trying new food became a cherished activity to share with her daughters, ages 10 and 2.
Instead of individual activities, the family now spends much of their time together and outside. Working on the garden and making plans together fostered communication and teamwork. Barlow plans to expand the growing area next season, with the goal of feeding more than her own family.
At the end of the season, she, her husband and their kids put up a 6-by-8-foot greenhouse to grow garlic, lettuce and herbs during the cold season. The three-week installation in their side yard piqued the interest of typically reserved neighbors who stopped by to ask about it. Barlow, a self-described introvert, began trading tips and vegetables with them. Though she'd lived in the neighborhood for five years, she discovered for the first time that many people around her also grew food in their backyards.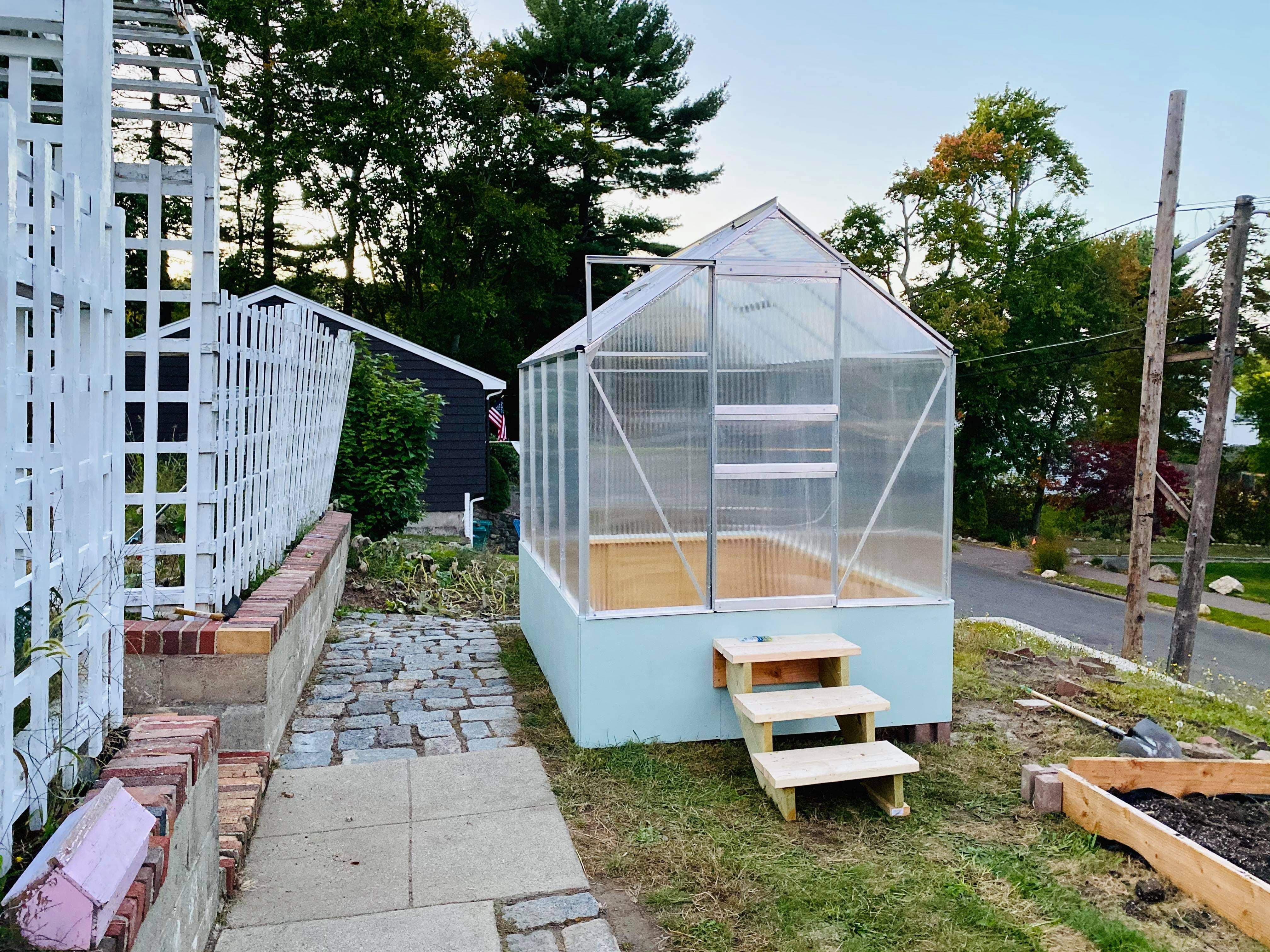 Photo: Danielle Barlow
"I have no problem reaching out, especially within my own community," said Barlow who joined several Facebook groups of local gardeners. "It was a really good mental change for me."
Because of social distancing, gardeners such as Barlow connected virtually. Novices sought advice from those old hands, while strangers exchanged seeds and proudly posted photos of their projects. Hank Melvin, who runs the Jamaica Plan Garden Group on Facebook, said it added 300 new members since March. It had taken a couple of years to reach 800 members before that.
Already a gardener for several decades, Faith Girdler appreciated it "10 times more" this year. She has met a number of people through Melvin's group as well as the Boston Area Gardeners, a Facebook community with more than 2,000 members. "I have discovered that gardeners are the most generous, friendly folks in the world," she said.
Budding demand
Just as schools and work became virtual, so did traditionally hands-on garden training. Kevin Cody, who oversees Tufts University's crop production program, said the pandemic brought a significant uptick in enrollment. Classes typically held at Moraine Farm in Beverely were online - and now accessible to people normally unable to attend in person, especially those from rural areas.
"We're also seeing folks who are getting turned on to farming — making a living being outdoors," said Cody, noting the majority of students have some growing experience but want to scale up an operation from a large garden to a small market farm. "The business class enrollment is higher than it's ever been." He expects the program to continue in a hybrid format post-pandemic because the online classes have been so successful and engaging.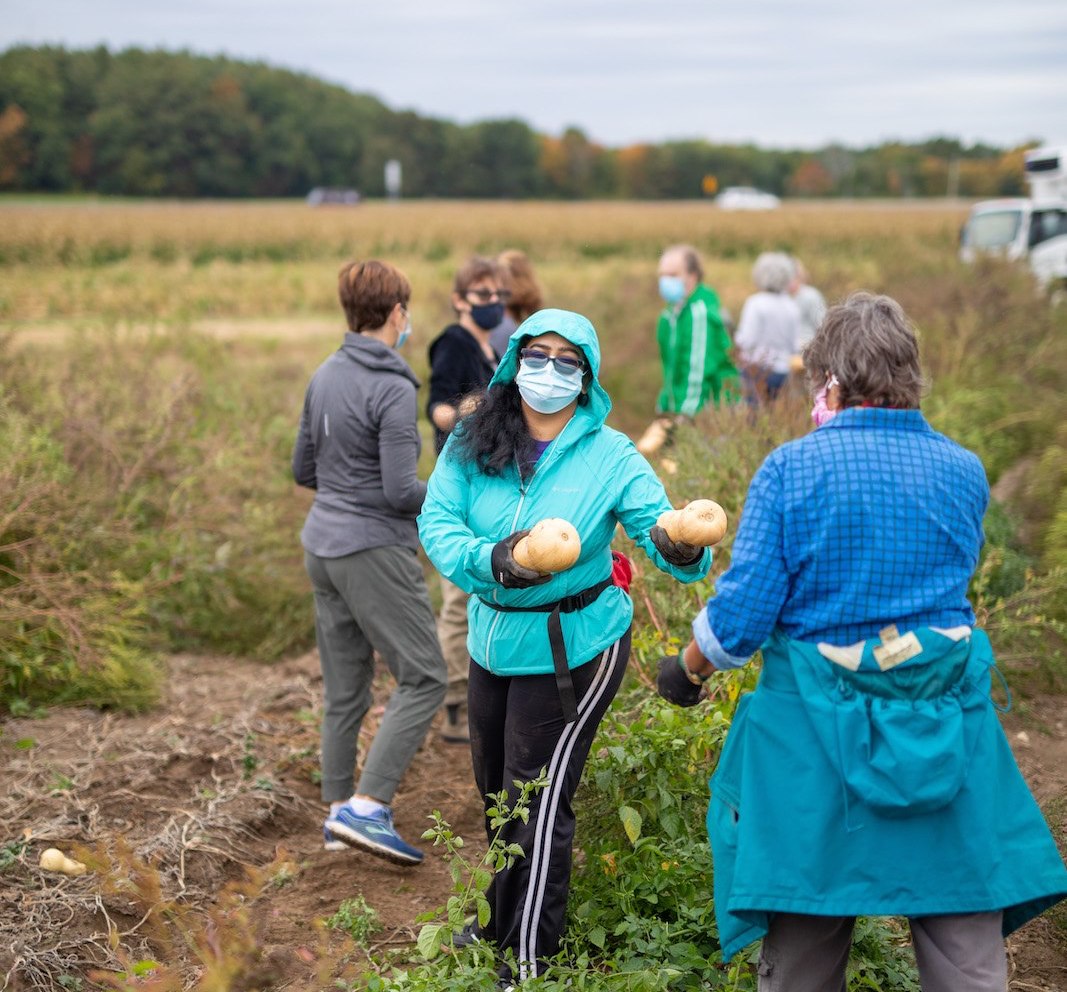 Photo: Boston Area Gleaners
Students were able to volunteer on the farm, weeding, planting and harvesting with the New Entry Sustainable Farming Project. The organization partners with Tufts to train new farmers, helps them launch businesses through an incubator program, and connects them with direct-to-consumer and wholesale customers. While the volunteer experience took on a new meaning this year as people coped with COVID, Cody said the benefits are timeless. "The value of outdoor work and connecting to the land are likely to persist."
Farmers lost their institutional customers as restaurants and schools closed, but residents suddenly descended on them for fresh produce they couldn't find at the supermarkets due to supply chain issues. It was a significant shift for farmers - and the organizations that rely on them for donations.
"People were beginning to understand how local food is a much more accessible resource," said Usha Thakrar, executive director of the Boston Area Gleaners. The non-profit works with 80 farms to harvest surplus crops and distribute them to hunger relief organizations. The group attracted a significant number of new volunteers in 2020, but Thakrar says there were fewer gleaning opportunities due to the drought and high demand for local food.
Suddenly, community supported agriculture programs, or CSAs, were growing exponentially after several years of declining interest. The USDA Agricultural Census reported an 18% decrease in direct-to-consumer farms in Massachusetts between 2012 and 2017. This includes farms that sell through CSA subscriptions and farmers markets, which is a more expensive business model to operate than wholesale.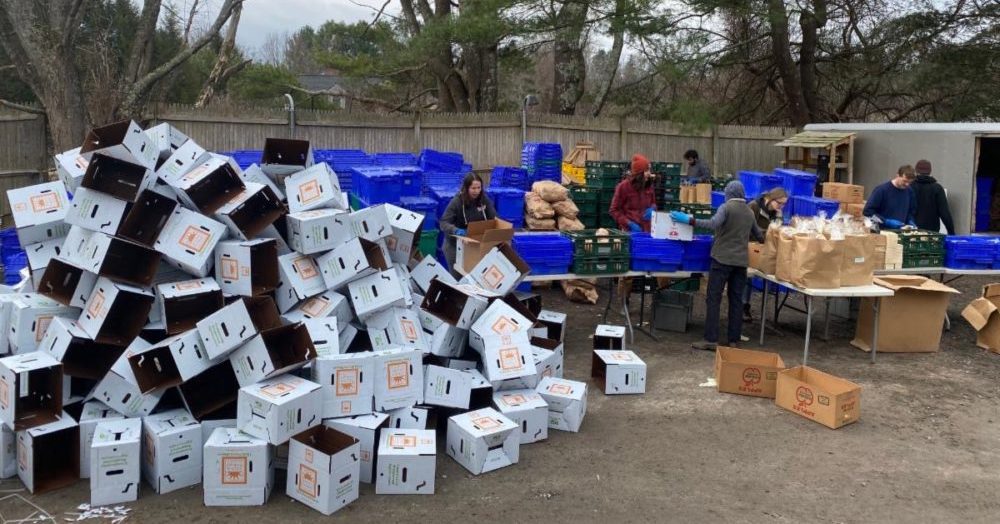 Photo: Siena Farms
Thakrar said all of the Gleaner's direct-to-consumer farm partners struggled to keep up with demand. Every CSA was sold out or expanded for the season. Weekly CSA subscriptions from Siena Farms, a sustainable farm in Sudbury, swelled from 500 boxes to more than 2,000. The farm is already accepting sign-ups for 2021.
Massachusetts farmers are cautiously optimistic the demand and sales will carry forward, as consumers continue to value local food. The heightened interest in gardening may help. "One of the best ways for people to appreciate the food they buy is to grow it themselves," said Cody.
After realizing how fragile her dependence was on grocery stores, Lee Nelson planted a variety of fruits and vegetables in containers on her deck for the first time. Even though she didn't end up really needing the produce, she is grateful for the new skills. "It gave me something to look forward to every day." As the summer ended, Nelson planted greens, peas, potatoes and radishes to harvest through mid fall and early winter.
"We would like to believe that [the pandemic] has highlighted the importance of local agriculture and supporting that infrastructure," said Thakrar. "We'll see if it's sustainable or if people revert back to really wanting watermelon in January."
While no one knows what the 2021 season will be like, both Thakrar and Cody said the recent investment in infrastructure to support a robust local food system in Massachusetts is a promising sign for the long-term.
Growing resilience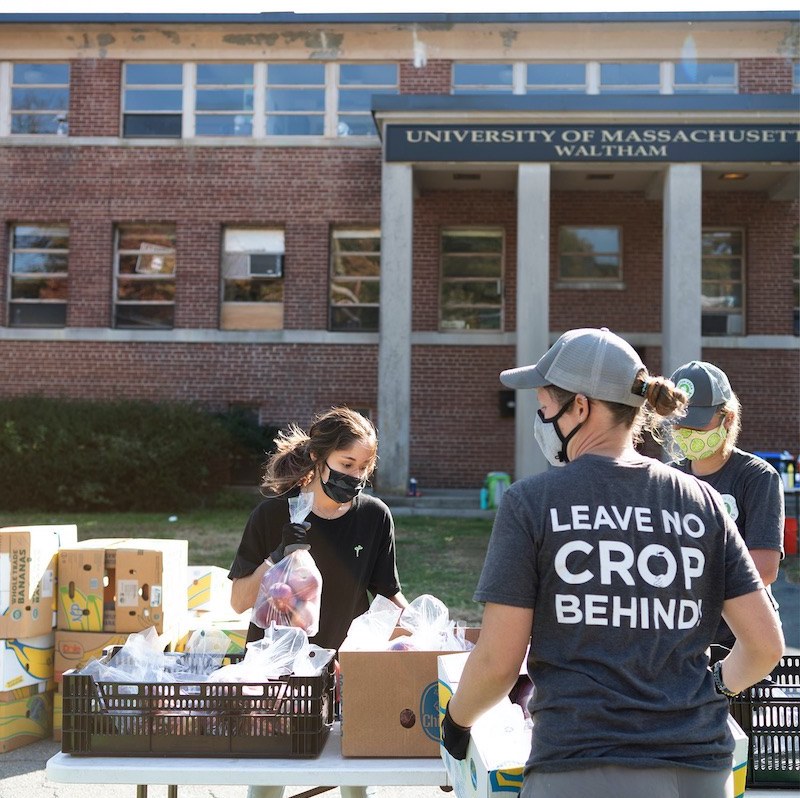 Photo: Boston Area Gleaners
For some people, gardens were a way of coping with hunger in the midst of a sudden economic downturn.
Massachusetts created a food security task force to address the soaring demand for food assistance during COVID-19. One of the task force recommendations was to direct funding for agricultural infrastructure, including delivery trucks, coolers, farming equipment and buildings. Following this guidance, Massachusetts Gov. Charlie Baker announced a Food Security Infrastructure Grant Program in May. Three rounds of grants have been awarded, primarily to local farms and public schools, with more to come.
The program was welcome news to farmers who were experiencing distribution bottlenecks due to the inability to store or transport an increased volume of products. Cody believes these types of grants are an important part of improving access to healthy, local food for the long term. "Smaller investments can greatly expand an operation," he said.
The state also dedicated $12 million to purchase and distribute local food boxes to families supplementing the similar nation-wide USDA Famers to Families Food Box program. Both aimed to support farmers and local economies while addressing the growing food insecurity during the pandemic. In the first two rounds, the USDA awarded contracts to the Boston Area Gleaners, already experienced and equipped to collect and distribute food. The group sprung into action in early spring, typically its quietest time of the year. Thakrar said being able to pay its regular farm partners was a bonus.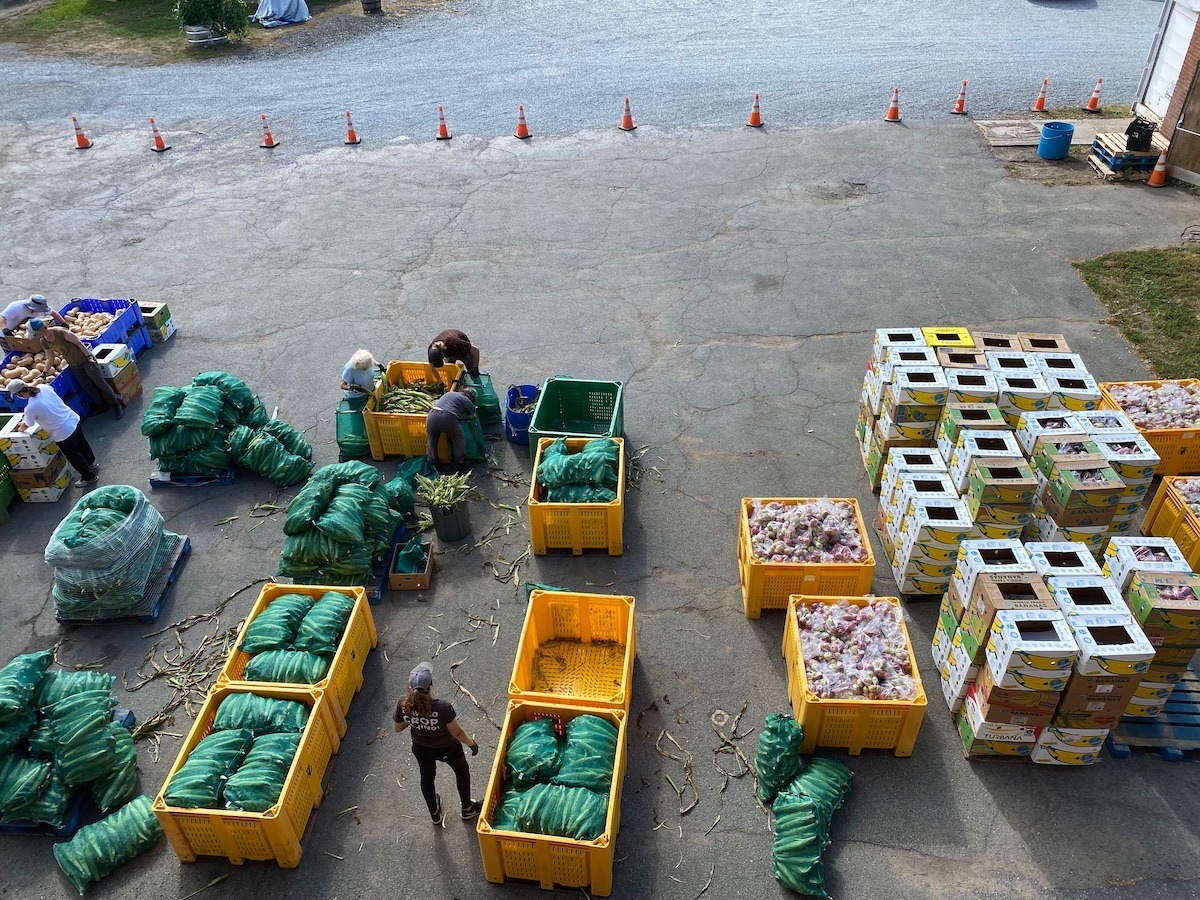 Photo: Boston Area Gleaners
"It started off as a very useful program and has been tremendous value to people on the ground," said Thakrar.
After the USDA changed box requirements to include produce, dairy and meat in every package, Thakrar said the group did not apply for subsequent rounds, but continued to help with distribution through the third round which ended in October. The USDA did not award any contracts in Massachusetts in the fourth round and Thakrar says the impact on food pantries was immediately palpable. "It's really incredibly valuable to be able to provide more than the standard pantry fair with local and fresh produce," she said.
National and state hunger relief programs have not not been able to completely meet the massive need in Massachusetts. The state experienced the largest rate increase in food insecurity in the nation in 2020, according to projections from Feeding America. More than 1 million Mass. residents did not have enough food, up 59 percent from 2018.
Cultivating community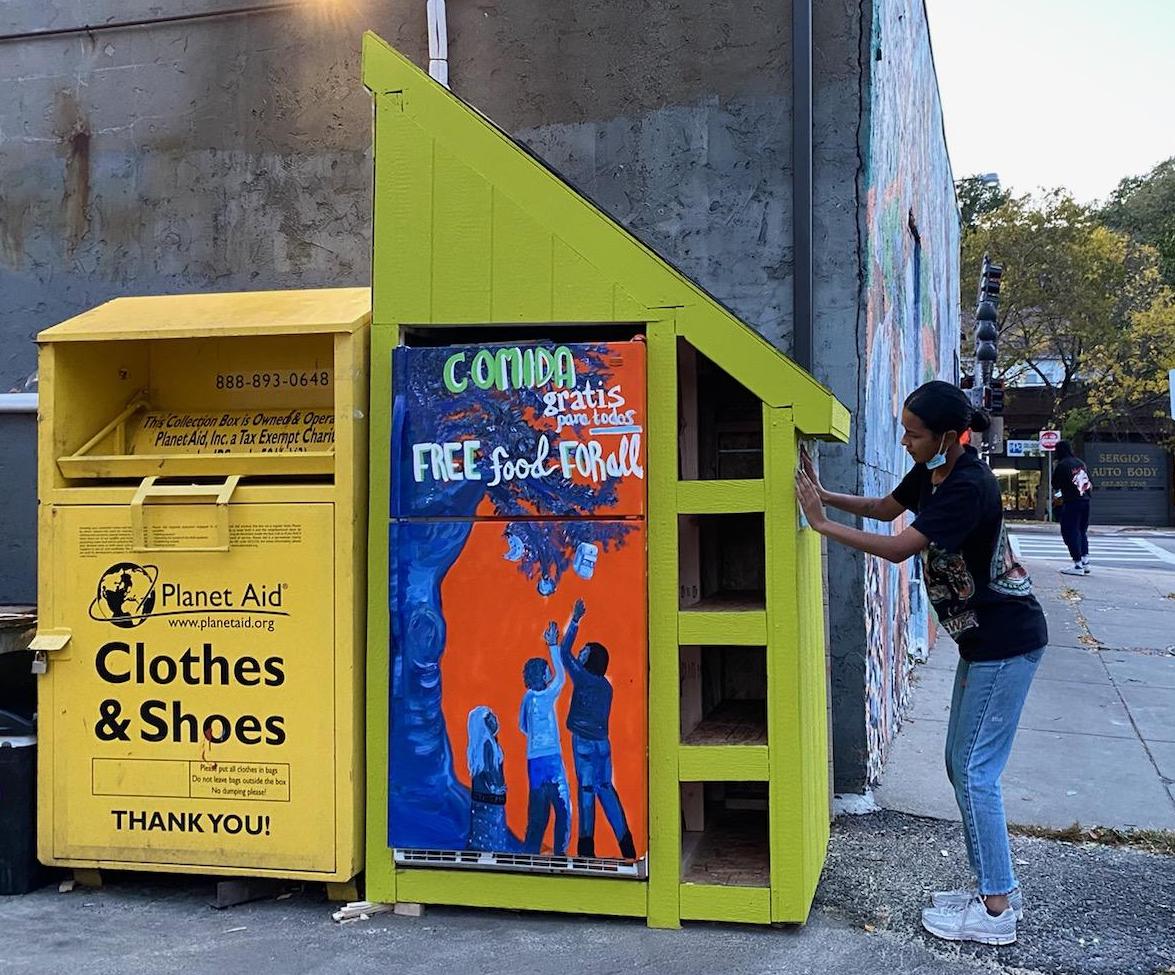 Photo: Roslindale Community Fridge
A grassroots movement to address hunger hyper-locally through creation of a community fridge in Jamaica Plain quickly took root in surrounding neighborhoods. Through the fall, brightly painted refrigerators popped up on sidewalks in Dorchester, Roslindale, Allston, Fenway and Somerville. People are encouraged to take whatever food they need from the fridges, replenished daily by community donations. "Host" businesses provide electricity while volunteers ensure the refrigerators stay clean and post updates on social media to ensure it remains stocked. Local farms regularly supplement individual donations, including homegrown fruits and vegetables.
"Now more than ever, we need fresh, locally sourced food to keep our community healthy," said Patricia Spence, president of the Urban Farming Institute in Mattapan. "We must teach as many families and individuals as possible how to grow their own food," whether it be in backyard raised beds, porch gardens or herbal kitchen gardens, said Spence.
A 2014 study found interactions with casual, low-stakes relationships increased a person's happiness and sense of belonging in the community. Yet, just one in three Americans can attest to knowing most or all of their neighbors, according to a 2018 Pew Research survey. Simply working outside can offer plenty of opportunities for growing "weak ties," especially in community gardens.
Photo: Urban Farming Institute
In her fifth year as a Fenway Victory Gardener, Christine Nelson noticed her garden neighbors busier than usual this year. She was in her plot in the community garden nearly every day since March. "It's been great to see familiar faces when so much of our social connections have been challenged this year," she said. There are 175 community gardens in Boston, with more than 18,000 growers.
Laid off from her restaurant job with nothing in particular to do, Kate LeAnn passed the days on her porch and took daily walks around the neighborhood. Her neighbors were also around more often. In the previous six years, they had only interacted in passing. LeAnn, 38, worked extra hard tending the tomatoes, peppers and herbs in a raised bed her landlord encouraged her use this year. The garden was an entree to small talk.
"It was fun sharing it with friends and neighbors," she said. While grilling dinner on her porch, LeAnn regularly chatted with her retired nextdoor neighbor about his various home projects. "We had the time to sit and carry on a conversation rather than rush around." Since she returned to work in July, she doesn't see her neighbors as often, but said she is grateful for the shift in mindset.
"It feels cozier and more neighborhood, which is nice because it's so easy to be surrounded by strangers," LeAnn said. "It feels more like a home than a place."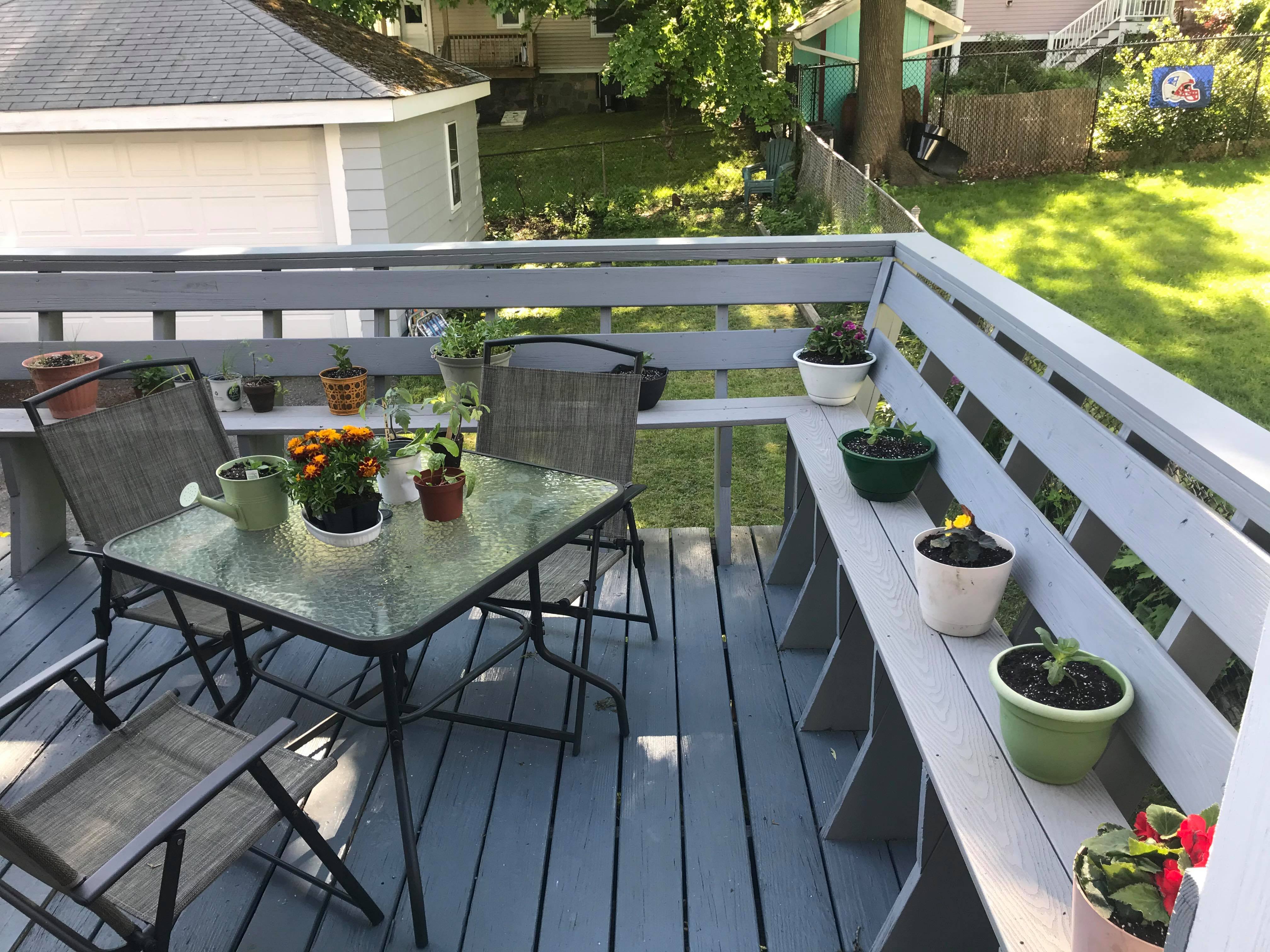 Photo: Kate LeAnn